Have you been searching for a pressure washing Destin, FL, company that is reliable, experienced, and trustworthy? If so, then Pro Exteriors Pressure Washing, LLC, would like to introduce our company to you. We have a full range of services to offer to residential and commercial property owners in the area, and we welcome the chance to work with you, anytime you have Destin pressure washing projects on your list of things to do.
Top Rated Destin Pressure Washing
The services that we offer include; roof cleaning, roof washing, house washing, power washing, commercial pressure washing, and so much more. We have the equipment and the knowledge to clean your property, from the top of your home, by using a soft roof washing method, to the end of your driveway, with a Destin power washing service. Our vast experience in residential and commercial pressure washing Destin, FL, allows us the opportunity to clean your exterior surfaces completely, safely, and professionally, every single time.
Call Today for Commercial Pressure Washing Destin FL
We know that you have other companies from which to choose when you are looking for a pressure washing in Destin company; however, we believe that we offer some of the best Destin Beach roof cleaning, roof washing, pressure washing, and power washing services in the area.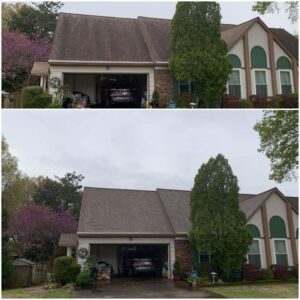 Pro Exteriors Pressure Washing, LLC, is a growing company, and we are very pleased to offer our expert pressure washing and roof cleaning Destin, FL, services, in the great state of Florida now.
We Also Offer Roof Cleaning and House Washing
Destin is a remarkable community, with beautiful beaches, inviting golf courses, fishing and boating opportunities, and the welcoming Destin Harbor Boardwalk.
If you are in the area, and you have been looking for a dependable pressure washing Destin, FL, company, then please contact the professional team members from Pro Exteriors Pressure Washing, LLC. We always offer free estimates for potential projects, and we look forward to working with you at any time of the year!