Pressure Washing Memphis TN
If you have been searching for some of the best pressure washing Memphis, TN has to offer, or commercial pressure washing Memphis, TN, then look no further than our company, Pro Exteriors Pressure Washing and Services, LLC.  We are a well-established Memphis pressure washing company, and we have many pressure washing services that we offer to our residential and commercial customers.
Top-Rated Memphis Pressure Washing
In addition to providing pressure washing in Memphis, we also offer services for commercial pressure washing, roof cleaning, roof washing, house washing, and power washing of hard-surface areas.  When you are looking for a Memphis roof cleaning company, it is important to find someone that is familiar with the nuances of roofing materials, and someone who specializes in soft roof washing procedures.  This is exactly the type of service that we offer, for our Memphis roof washing practices.  We work carefully and methodically, in order to provide the best roof cleaning Memphis, TN, has to offer.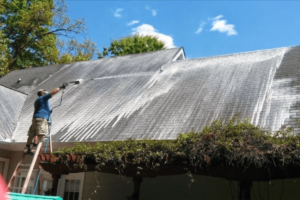 Call Today for Commercial Pressure Washing Memphis TN
We are also proud of the Memphis power washing services that we perform for our customers.  We are equipped with professional-grade cleansers and machinery, as well as our own advanced education, which allows us to offer superior pressure washing services for all types of building materials.  We will rid your property of dirt, grime, mold, mildew, insect nests, and any other unwanted substance that has developed along your exterior surfaces.
We know that your home or your business is a big investment for you, and we will do everything that we can, in order to enhance your property with our professional pressure washing treatments.
 We Also Offer Roof Cleaning Memphis and House Washing Memphis
With so many fun and interesting things to see and do in the Memphis area, such as strolling along the shores of the Mississippi River or exploring the Blues Hall of Fame, why spend your precious time cleaning the exterior portions of your home or business, when you can let the experts take care of the work for you.  For your next pressure washing Memphis, TN, project, please contact the staff from Pro Exteriors Pressure Washing and Services, LLC.  We look forward to working with you anytime!