If you have been searching for pressure washing Miramar Beach, FL, then Pro Exteriors Pressure Washing, LLC, welcomes the chance to offer our professional services to you.  We are a full-service pressure washing company, and we provide our exceptional services to all residential and commercial customers in the area.
Top Rated Miramar Beach Pressure Washing
In addition to offering Miramar Beach pressure washing, you can also count on us to provide services for roof washing and roof cleaning, house washing, and power washing services.  We have over 20 years of industry experience, and we know which type of pressure washing practice is the best method for all types of exterior cleaning projects.
Whether you are looking for a reliable company to perform a soft roof washing for your home, or if you are looking for a commercial pressure washing company that can help you maintain your commercial property, then Pro Exteriors Pressure Washing group has you covered.  We are experts in the field of pressure washing in Miramar Beach, and we will gladly offer free estimates to you for any potential exterior cleaning project that you would like to have serviced.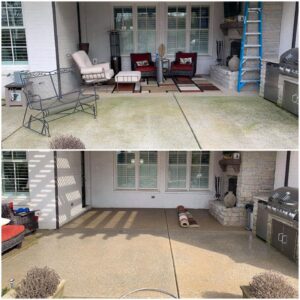 Call Today for Commercial Pressure Washing
Our growing company, which has other offices in Tennessee and Mississippi, is pleased to now offer our residential and commercial pressure washing Miramar Beach, FL, services.  Whether you are looking for a Miramar Beach roof cleaning, a Miramar Beach roof washing, house washing, or power washing, we have the equipment, the cleansers, and the skills needed, to clean every section of your exterior surfaces.
Miramar Beach is a beautiful, inviting part of the Florida Panhandle.  With white, sandy beaches and crystal-clear waters, there is no denying the fact that Miramar Beach is an appealing, picturesque community that is adored by many people.
We Also Offer Roof Cleaning in Miramar Beach and House Washing
If you are a property owner, or manager, in the region, and you have been looking for a roof cleaning Miramar Beach, FL, service or any other type of pressure washing Miramar Beach, FL, service, then please contact the expert staff from Pro Exteriors Pressure Washing, LLC.  We look forward to hearing from you, and working with you, any time of the year!